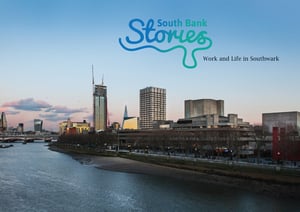 £

5.00
"South Bank Stories" features six stories from the South Bank, telling the work-life heritage of people who have been part of the area over the past few decades. People like Chris Livett, a fifth boatman on the River Thames, and Maria Moruzzi who has been the foodie heart and soul of Borough Market for many years.
This book combines portraits taken by photographer Mike Tsang, oral history interviews and found photos of the details of the interviewees' workplaces. The print run is limited to an exclusive 200 series and showcases the lives that have made up the history of Southwark.
Paperback: colour, 52 pages.